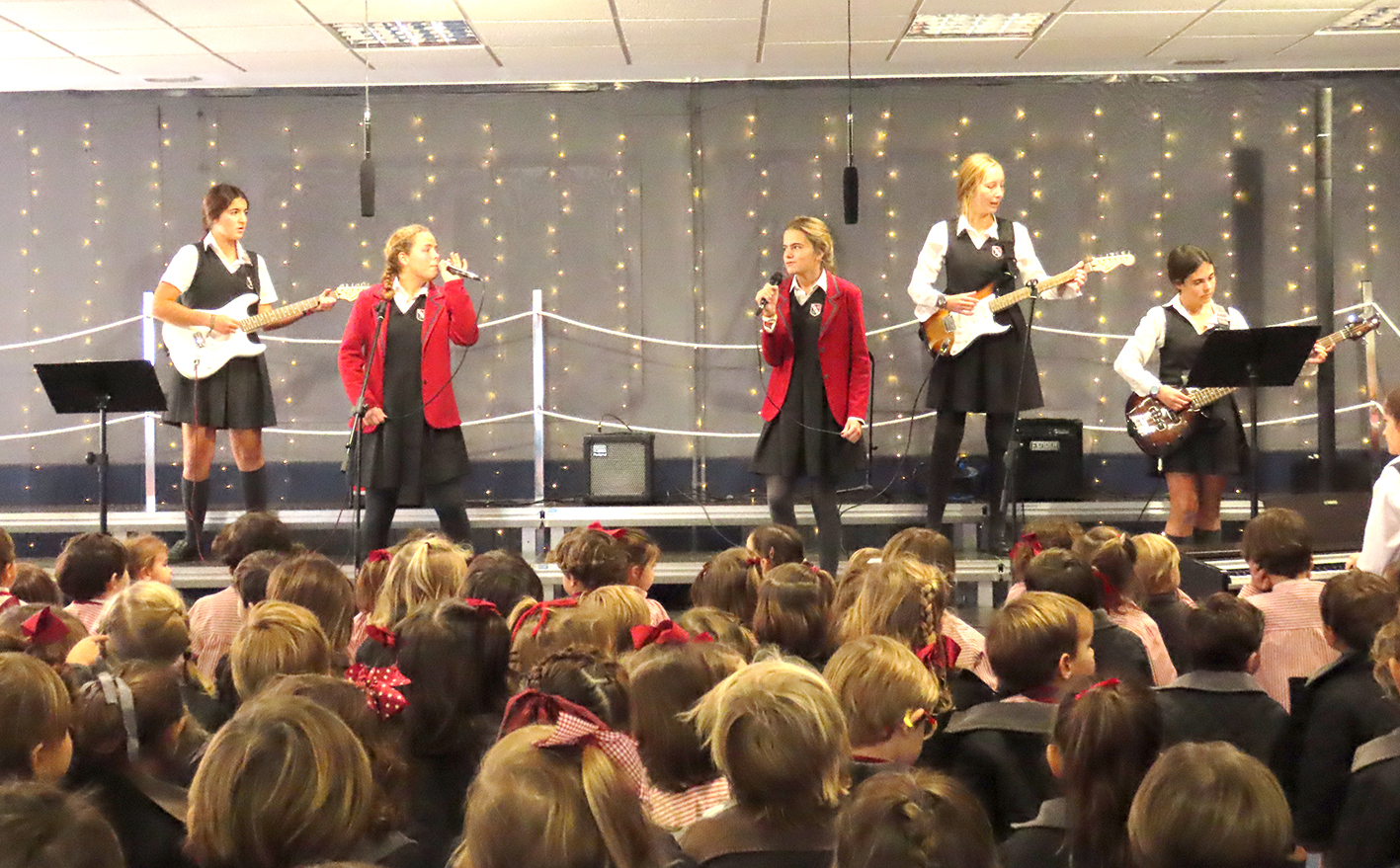 Great St Cecilia's Day concert
Last 25th November, the Music department in Alegra organised one of the best St. Cecilia's Day concerts we have ever had in the school: pupils from the Music school of different grades, Primary and Secondary choirs and the final show of the PAI 5 and PD 1 bands that literally brought the audience to its feet.
All stages had the opportunity to attend the concerts organised by the music teachers on the occasion of St Cecilia's Day. The event, which has already become a classic at Alegra, showed the work and talent of all the students who participated: students from the School of Music with piano and guitar, Juniors choir, Secondary choir and rock bands from PAI 5 and PD1. To use a musical term, the concert was "in crescendo" and even the youngest students jumped with the bands.
It's not just about singing or playing an instrument, it's about doing it live and in front of more than 100 people. "It's about putting the students in a professional context and getting them used to the stress of a live performance, of making mistakes and getting away with them and seeing how the audience interacts with them," says Miss Ana Pérez-Muñoz, a secondary school music teacher. "Being up here is very scary, so if you can, sing with us and cheer us on", said Adriana, the vocalist of the group Zitisens, to the audience.
There was no need for her to ask because the audience sang along from the first verse to the last, and congratulations to Miss Melissa, Miss Alaine, Miss Laura and Miss Ana, Alegra's music teachers.
Music at Alegra, more than just a subject
From Lower Nursery to Baccalaureate music has great importance in our curriculum. And not only last week we celebrated it in style. Music is always present at Alegra:
A curriculum subject from Lower Nursery (2 years) to MYP 5 (15) where the pupils start learning the basics of rhythm and singing and from Year 3 onwards they combine it with instruments such as xylophone, piano and ukulele.
In Secondary, the school provides each pupil with an instrument to choose between drums, keyboard or electric guitar. In PAI 5, students who wish to do so can form a Pop-Rock band and finally, the PAI stage works on the preparation and staging of an opera.
In the Juniors and PAI: PD choirs, more than 70 pupils participate regularly in different celebrations: Auto Sacramental, Family Mass, Nine Lessons and Carols and has recorded in studio the school Hymn under the direction of Iñigo Pirfano.
Finally, the Music School, which starts in Reception, brings together more than 100 pupils from all years