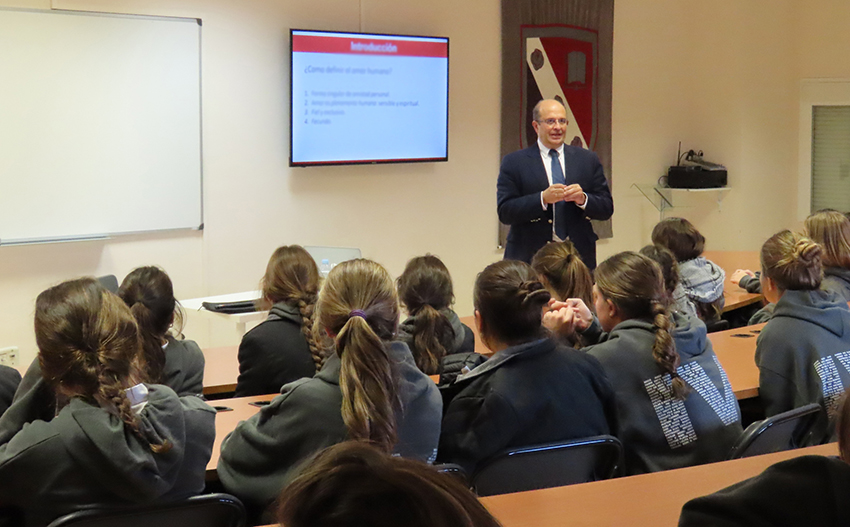 Well-rounded education at Alegra: Bioethics Programme
Students of the Diploma Programme (DP2) enrich their learning with the Bioethics Conferences where they have the opportunity to listen to top-level professionals on the ethical issues that arise in the advances in medicine.
One of the advantages of the Alegra curriculum is the possibility for students to broaden and deepen their knowledge in all areas. For this reason, in addition to having solid study plans, there are numerous programmes that strengthen the curriculum even more. An example of this is the Bioethics Conferences that are taught in the Diploma 2 Programme, conferences in which, from a humanist and Christian approach, topics such as sexuality and fertility, assisted reproduction, the life of the unborn, and palliative care, among others are dealt with.
The people in charge of giving these sessions are great professionals in their field: gynaecologists, specialists in family medicine, psychiatrists, etc. who, through different approaches and subjects, emphasise the same point: the importance of the dignity of the person without exception.
With these conferences, Alegra seeks to promote reflection and research on topics of vital importance for the human formation of Alegra's students: The beauty of human love and sexuality as a gift, the knowledge of human fertility, and the different methods of assisted reproduction or the importance of offering palliative care at the end of life.