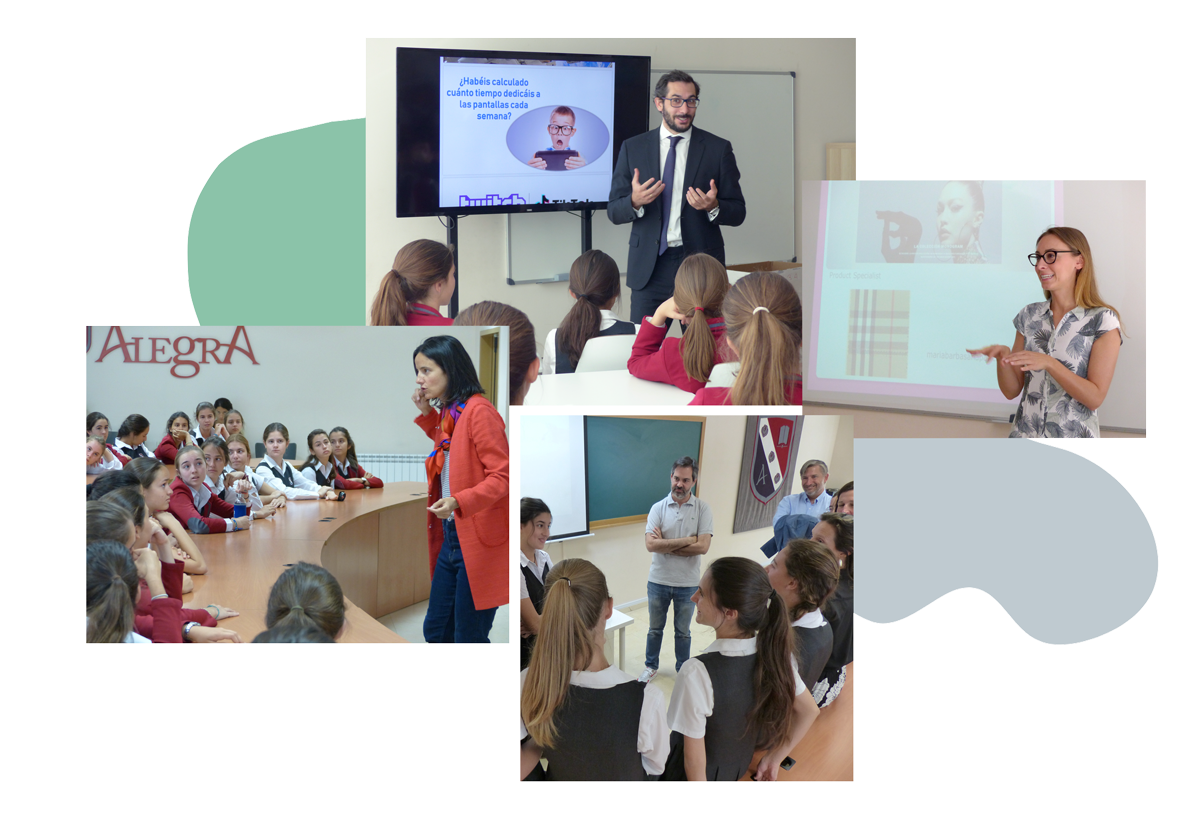 Alegra Focused Seminars
Alegra Focused Seminars take place in the last two weeks of the Summer term. The vast number of sessions on offer are designed to ignite intellectual curiosity and to build on the skills and abilities of our students to allow for further progression, leading to University access and beyond. Sessions vary greatly in both subject and content – exploring multiple imaginative and creative possibilities in fields such as business, finance, marketing, the visual arts, literature, music, theatre, film, and psycho-analysis. 
The provision of multi-disciplinary and multi-cultural environments allows for an extremely enriching personal experience. It is a wonderfful opportunity to make valuable and long-lasting contacts with other students and experts from all over the world.
Finance, Economy, and the Stock Market Programme. We invite some of the most highly regarded professionals from all around the world.  Through case studies focussing on significant changes in society, observations involving successful young entrepreneurs and engagement in innovative workshops, our students are able to visualise and relate to entrepreneurship. The program is aimed at fostering their capabilities in order to identify challenges and create new value through co-operation with others. Similarly, an introductory program is on offer to teach our students about business and financial services in-line with career development courses. A thorough understanding of finance and economics contributes not only to the personal success of our students, but to the successes of businesses, institutions, and governments in which they will participate. We are passionate about educating young people about an economy they will work in, benefit from, and ultimately, inherit. 
Marketing, Communication, and Branding in the World of Fashion Taught by prominent professionals, renowned for their expertise. Students receive essential marketing, communications, and branding education, alongside an understanding of contemporary fashion issues and trends such as globalisation, technological advances, fast fashion, and sustainability. There is a strong emphasis on employability and professional skills with lectures and workshops designed to help support their career ambitions. Our guest speakers bring a wealth of fashion sector experience and research expertise to the programme: different aspects of fashion consumer behaviour, consumer psychology, sociology, and cultural influences. Our students are taught about fashion branding strategies from building start-up brands to the management of brand architecture for more established brands. Industry professionals play an active role throughout the programme, enabling students to not only gain insights into the latest sector issues and find out about career options but to build on their contacts and networks. The course includes study visits to fashion events, conferences, exhibitions, and site visits in Madrid and beyond.
History of Art Seminars. We welcome a series of keynote speakers and colleagues to deliver seminars based on their research. This is a wonderful opportunity for our students to hear from art historians, critics, curators and artists from the about their work. 
And Much Much More!
Our series of Alegra Conferences also include Corporate Communications, Digital Marketing and Social Media, Social Entrepreneurship, and Music Production.   Our students are often left scrambling to keep pace with the plethora of opportunities available for them to attend. 
Educational Trip
At Alegra, we are constantly providing our students with practical experiences relating to curriculum content alongside glimpses into possible future careers with visits to Museums, Hospitals, Manufacturing Plants, Radio and TV Stations, Newspapers and Publishing Houses, Plays, and Performances, and a wide range of other Corporations.  
Alegra Focussed Seminars coincide with Alegra Solidarity Week, with our students putting their knowledge into action; they volunteer and participate in a wide variety of activities to serve and strive to make a positive impact in the local community.